Silicone – Is this the next Frontier in Stoma Products?
Disclaimer: Paid Partnership with Trio Healthcare
Do you ever take off your stoma bag and wonder what exactly happens to your skin underneath?
There is very little time when the skin directly around your stoma and immediately surrounding it is without something sitting on top of it when you live as an ostomate.
But how many of us know what condition our skin is in? Or how our skin responds to the products we place upon them?
Firstly let's talk about peristomal skin; this is broadly defined as the abdominal skin surrounding the stoma; however, a more practical definition would be the area the ostomy bag or system adheres to the skin.
Most of the products that remain in constant contact with our peristomal skin are made up of hydrocolloids. This is a substance which forms a gel in the presence of water. Practical when it comes to ostomy baseplates and seals/rings as they can mould and form to the patient's shape in a moist environment.
However, hydrocolloids absorb water. This can lead to products becoming too wet, irritating the skin and in some cases, breaking down the delicate skin around a stoma. Having sore skin can cause significant problems for ostomates.
Healthy peristomal skin is a big factor in making patients feel comfortable with having and wearing an ostomy bag. Being in pain, leaking, changing bags frequently and being uncomfortable are not great signs of a happy ostomate.
Silicone technology
Peristomal skin is vulnerable to several complications that can cause considerable physical discomfort and emotional distress (Keeling, 2015)
Although common, these complications can generally be prevented or resolved with the correct use of the most appropriate stoma appliance (bag or pouch) and stoma care accessories for the patient's particular needs.
A number of silicone-based stoma care accessories have been developed that have been shown to be effective at addressing these complications, including barrier films, adhesive removers and fillers (Cronin, 2016). They have been developed with a distinct evaporation-based mechanism of moisture management, a key component to improving peristomal skin.
Silicone is non-toxic and non-alcohol based, and thus non-irritant, as well as able to repel water and chemical attack, all of which help these accessories maintain skin integrity, appliance adherence and patient comfort (White, 2014).
Trio Healthcare has introduced this technology into stoma care with a range of silicone-based stoma accessories. Sil2™ Breathable Silicone Technology, a unique silicone adhesive blend that breathes and feels just like normal skin is used in the latest Genii seals and flange extenders and is soon to launch Genii stoma bag.
So is this the next frontier in stoma care? Silicone provides an alternative to hydrocolloid and many of the products available to ostomates. The feedback has been positive; stating that silicone it is gentler to use, feels more comfortable and feels like skin. It is hoped that this will also increase appliance wear time and improve patient quality of life.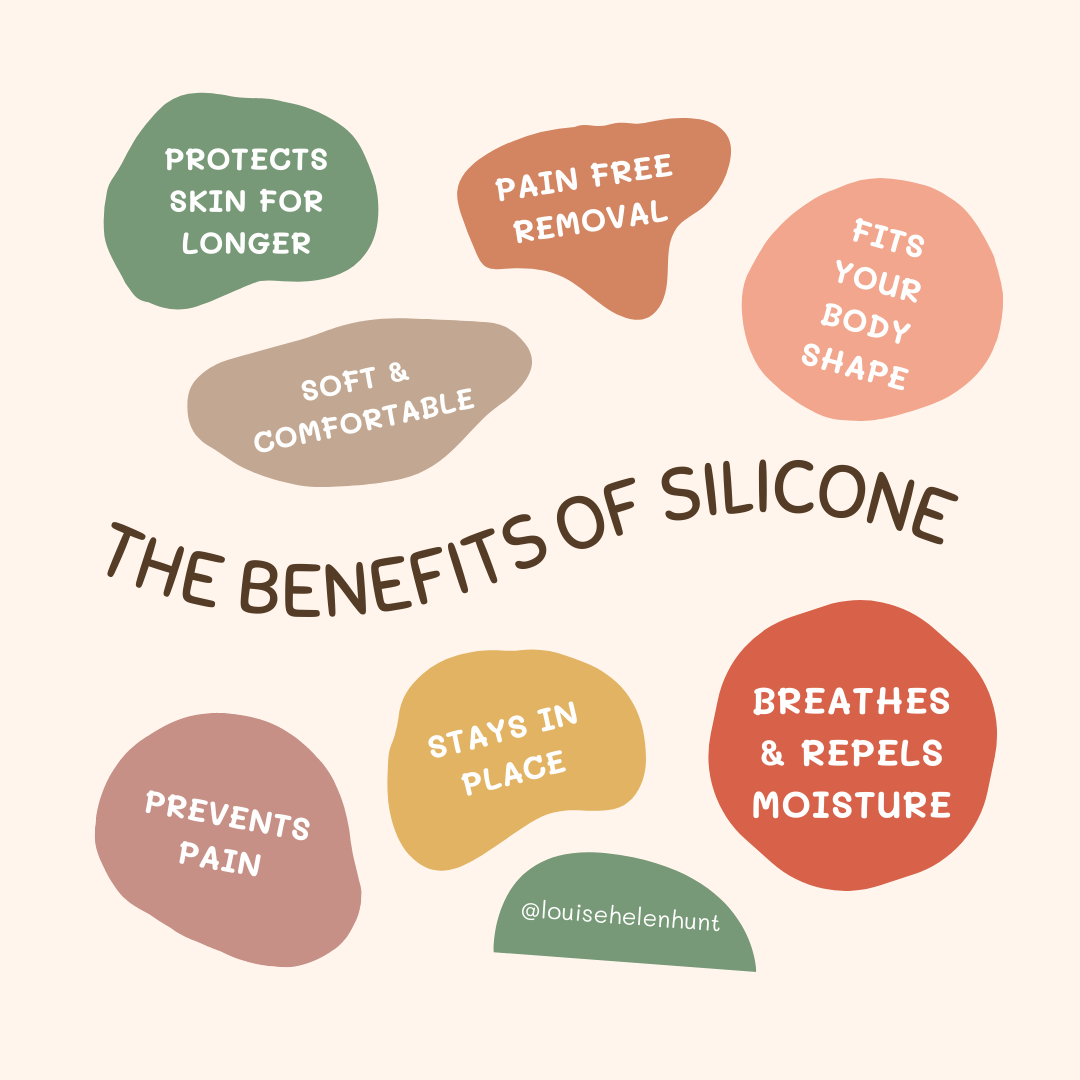 Read more about the benefits of silicone here.
Trio Healthcare has introduced this technology with a range of silicone-based flange extenders and is working with the University of Bradford Centre for Skin Sciences on prototype silicone-based stoma appliance flanges designed to significantly reduce the incidence of peristomal skin complications, such as MARSI and MASD.
So is this the next frontier in stoma care? The feedback has been really positive; stating that it is gentler to use, feels more comfortable and feels like skin. It is hoped that this will also increase appliance wear time, reduce costs and improve patient quality of life.
So how can you look after your peristomal skin?
Be observant – spend a few minutes once your used bag is off to check out your skin – Is there any new areas of redness? Does anything hurt? Or itch? Is there broken skin anywhere? By keeping an eye on things, you can alert your nurse if you are concerned.
Use the right products for you – this could be from within the same branded range, it could be a mix and match approach, whatever works best for you, based on good communication with a stoma care nurse.
Don't rush things, take your time – we sometimes miss important steps when we have a time constraint on a bag change. Take a breath, have things laid out ready and don't forget the dry wipes!
Cut your bag as close to the size of your stoma as possible – by keeping the bag as snug as you can, you reduce the risk of your output seeping underneath your baseplate, leaking and irritating your skin (especially true for ileostomies and high output stomas who experience more acidic output)
If it feels off, change it – an itch, or a weird feeling that it doesn't quite feel 'right' can be a sign that something underneath could be off. Catching this can help you avoid bigger issues on your next change.
If you do have a peristomal skin issue – sore skin, redness or irritated areas – remember that there might not always be a quick fix. The skin needs time to heal and repair, which is somewhat compromised as it is covered 99% of the time. But there is help.
Once you find what works best for you, it's time to order the items to your prescription.
As an ostomate in the UK, you are medical exempt; meaning you do not need to buy your prescriptions. Remember, your stoma is yours and it is your choice which products you use.
Gentle Reminders
Here are some of the reminders I find reassuring when I'm experiencing any issues with my own peristomal skin. I hope you find them helpful too.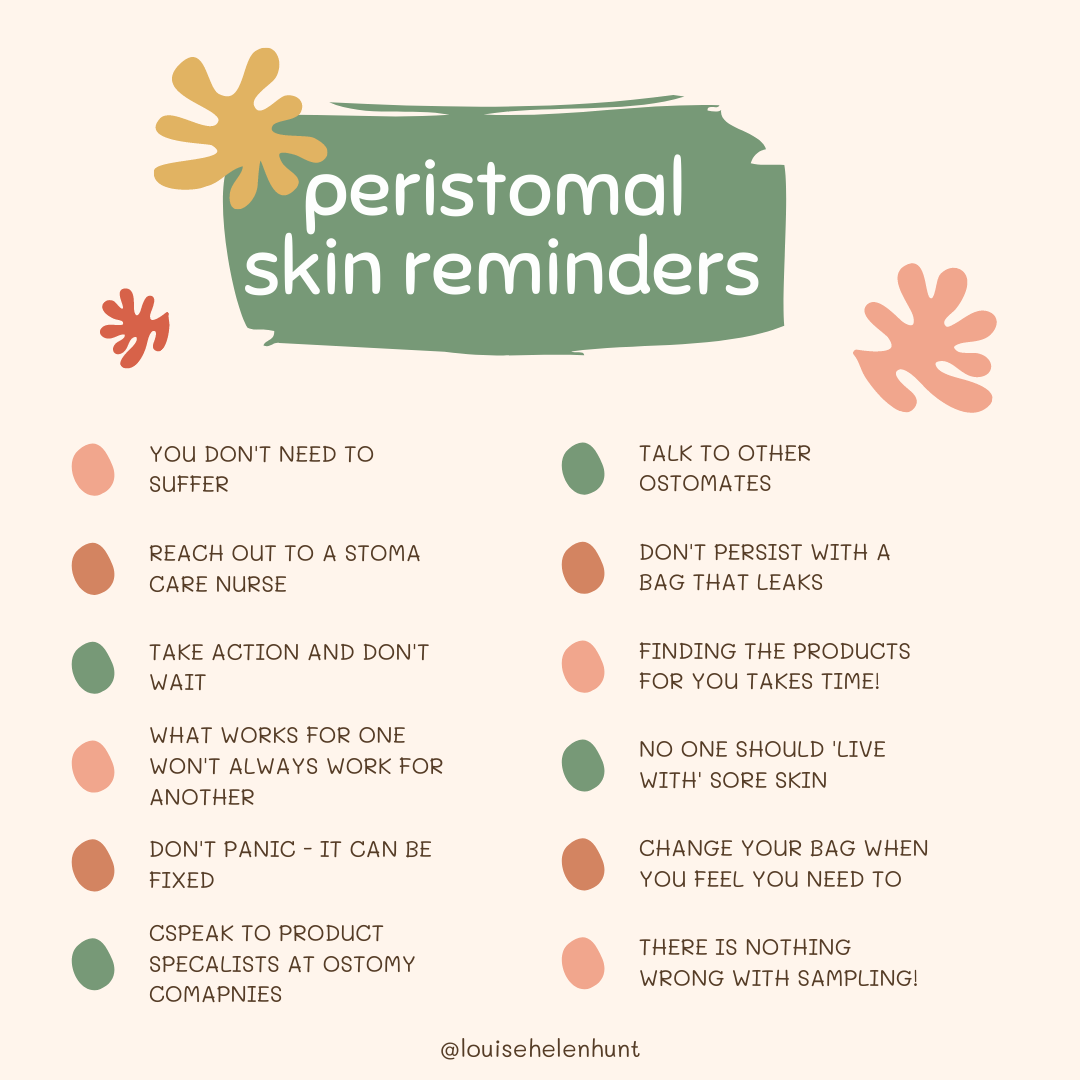 Coming soon – the Genii ostomy bag! The revelation of a silicone baseplate; furthering the benefits of silicone-based technology into the wider peristomal skin area. You can sign up to the Genii VIP list to try the closed an drainable bags here.
Their latest Genii stoma Accessories range featuring Sil2 Breathable silicone technology included in Genii™ Ostomy seals, Genii™ convex ostomy seals, and Genii™ flange extenders. It also features in their Elite, Elisse and Silken product range.
Until next time,

Do you have any questions or queries? Or just want to share your own experiences? You can leave me a reply here or leave comments via my social media accounts – on Twitter, find my blog page on Facebook and over on Instagram