Let's Talk About: Infusions in IBD
Welcome to my new mini-series, 'Let's Talk About" a place where I'll be breaking down barriers to commonplace situations within IBD care. I've had Crohn's disease since 2011 and have had a lot of both positive and negative experiences in my care within that time. I want to lessen the emotional burden of having IBD on the newly diagnosed as well as those who are established but experiencing new challenges. I'm always open to new topics for discussion, drop me an email or a message on my IG account here.
Bar about a year or so, I've always had my IBD medication as an infusion. So for me, this is pretty commonplace and one of the ways in which I feel most supported by my team. I'll get to that in a later post, but let's look at exactly what infusion can be and how they typically unfold.
What are infusions?
Infusions are medications or fluids which are given intravenously, via a cannula – a small needle – in your vein.
This is what it typically looks like:
In IBD, typical infusions can be biological medications – such as Infliximab or its biosimilars, Vedolizumab and the first dose of Ustekinumab – as well as iron infusions for anaemia and fluids for rehydrations. Sometimes, even blood transfusions. This post will focus on medication infusions. I hope to cover the others in another post later this year.
What types of medication can you receive as an infusion?
Anti-tumour necrosis factor (Anti-TNF) drugs such as infliximab (Remicade) and its bio-similars – infliximab-abda (Renflexis), infliximab-dyyb (Inflectra) and infliximab-qbtx (IXFI).
Integrin receptor antagonists drugs such as natalizumab (Tysabri) and vedolizumab (Entyvio).
Anti-interleukin-12 and interleukin-23 therapy such as ustekinumab (Stelara), which is a one-time infusion. It is then given as at-home injections every 8 weeks.
How to prepare for an infusion
Your consultant or IBD specialist team/nurse will explain to you why you require an IBD medication infusion and how to prepare for it. This will involve making sure you fulfil the criteria for the medication, including all detailed blood work, chest X-ray and possibly infection checks. They will explain the risks and side effects of the medication too.
Infusions usually take place in an outpatient treatment centre in or away from the hospital. Your specialist team will send a prescription to the infusion centre with details about the type, dose, and length of the infusion. As there may be a risk of an allergic reaction at the beginning of introducing a new medication to your system, there are extra checks to ensure your safety, including longer post-infusion waiting times and more observations. These will reduce over time, as your body accepts the medication.
Here are some tips to help you prepare for an infusion:
Ensure that the doctor knows which other medications are in use, including any over-the-counter (OTC) treatments and supplements.
List any concerns and talk with the doctor about them in advance.
Wear comfortable clothes.
Allow time to rest at home after the infusion, just in case it is necessary.
Take a book or magazine to pass the time during the treatment.
Bring a snack and drink with you.
What to expect at an infusion
Before starting treatment, a person should talk with their doctor about what to expect.
For the treatment to be effective, you will likely need regular treatment with the drug. You will need to follow the schedule your specialist team outlines. If you miss an appointment for any reason, you should contact your team to discuss options with them. If you are unwell before an appointment, it is also very important to notify your team so it can be rescheduled.
During the treatment
Although the procedure may vary slightly, people can usually expect the following when they have a Crohn's infusion:
First, a nurse will start an intravenous (IV) line. This involves inserting a small, thin catheter into a vein, usually in the arm.
In another room, the medication will be removed from the fridge, allowed to come to room temperature and proportioned out before adding to an IV bag of saline. It will be checked by another nurse to ensure safety. They will then mix them.
Next, the nurse will connect the medication to the IV. The medication is usually in an IV bag or bottle with a tube to connect to the IV in the person's arm.
When this is ready, the infusion will begin. Because there is a risk of an allergic reaction, the nurse may start the infusion at a slightly lower concentration and increase it over time. A person should alert the nurse about any potential symptoms of an allergic reaction, such as difficulty breathing, a rash, nausea, or a headache.
When the infusion is complete, it may be recommended that you stay for additional observations or that you have someone take you home and monitor them in case an allergic reaction or any side effects occur.
After the infusion
You will not usually experience immediate positive effects after having a medication infusion. It may take several weeks to notice the symptoms improving.
The length of time an infusion takes, and how often a person must receive them, varies among different medications.
For example, an infusion of vedolizumab will take around 30 minutes to deliver. After the first dose, the person will need to receive another one after 2 weeks, then 6 weeks later, then every 8 weeks after that. Staying for two hours after the first and second dose, then an hour after the third is common.
With ustekinumab, however, a person will receive a one-time infusion at a hospital, followed by injections at home every 8 weeks.
Things of importance to note:
Infliximab is given a strict ratio with your weight. This means each time you have an infusion, you will be weighed to ensure the correct amount of drug is given to you. This, of course, can change over time if you gain or lose weight.
Vedolizumab is a set amount and does not change based on weight.
It is also gut-specific, which means it targets specific cells within the lining of the gut to change its reaction to inflammation. It is very slow to show results – between 12-14 weeks, so with its schedule, this amounts to 4 infusions before you are accessed to determine its success.
Infliximab is similar but as it is an older drug, there is an antibody test available to check the level of build-up against the drug. This is a specialise blood draw taken right before an infusion which can be requested by your IBD team.
Below is the infusion scheduled for Infliximab. Additional observations are undertaken to ensure safety and prevent possible reactions away from the hospital setting. These are important to adhere to.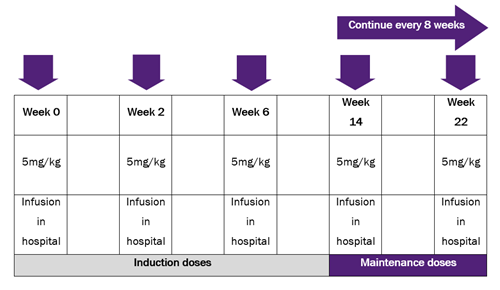 Queries I've had about my infusions over the (many) years I've had them:
What do you do to pass the time? How do you deal with failed cannulas? How long have you had infusions? How successfully do you find them? Why did you switch from injections to infusions? How do you keep organised with pre-infusion blood work? How do you determine if they are working or not?
Head over to my Instagram stories to find out the answers! (Also added to my IG highlight on my profile)
Until next time,

Do you have any questions or queries? Or just want to share your own experiences? You can leave me a reply here or leave comments via my social media accounts – on Twitter, find my blog page on Facebook and over on Instagram