What I've Learnt and Achieve in the Last Twelve Months with my Ostomy
Year Three with Priscilla has been one of calm in the mist of chaos. I made the gutsy decision to say goodbye to my sassy stump and hello to the Barbie butt club.
My mental recovery has and still is the hardest part of living with IBD and a stoma. It is a hidden undercurrent and blinds me every dang time.
But what did the next twelve months have in store for me?
I began the 'year' but having an interesting experience with a MRI scan and resulted in my Vedolizumab being renewed for a second year!
I began my reduced work schedule and felt better for it.
Me and Ben finally found a place and moved in together.
Alot of my Autumn was spent looking after my mental health and struggling with my PCOS symptoms.
I wrote a couple of series for my stoma – Ostomy Uncovered and Ostomy Supporting Products.
I finally got more detailed testing done for my PCOS and began seeing a Endocrinologist.
Shared a ton of education and awareness for IBD Awareness Week in December, found here.
I spent Christmas celebrating with just Ben, no family.
Decided to actually get rid of my rectal stump – I was increasing my painkillers almost monthly since September and I was struggling with a quality of life I wanted.
In January, I consented to my Protectomy surgery! It was a simple but huge day for me.
I wrote a guest piece for Comfizz about why I blog.
February saw me have my Liver biopsied for my Hepatologist to finally nail down a diagnosis for my persistent high LFT bloods – NASH.
I wrote two IBD series – Extra Intestinal Manifestations and The Digestive System.
I started back with counselling and needed a course of CBT for anxiety.
I didn't go back to work because my surgery date was confirmed for the end of March.
April to July I fought through surgery & recovery, wound infections, anxiety, depression, another surgery & subsequent recovery; as well as body image issues to come back to work in August.
We didn't get a chance to celebrate my birthday or our anniversary due to being a two weeks post op, but plans have been made to celebrate in the Autumn.
I wrote a guest piece for Natalie of Lights Camera Crohns about IBD and depression.
I begin High Intensity Therapy in a month or so after my CBT sessions ended but treatment is still on going.
I am still very much a work in progress.
My stoma has been a giving of life not a taker. I've seen my stoma take a back seat my challenges this year and I never truly knew what it was like to not have to worry about it. And whilst I have chosen my stoma by completing my surgical journey with my Protectomy, life is never going to be the same as life pre-stoma and that is okay.

Accepting that is hard but it going to make things easier. I just know it.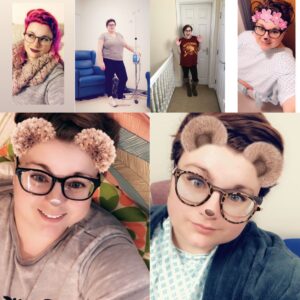 Here are the "living with an ostomy" post highlights:
YEAR THREE:
Surviving the Summer with an Ostomy: A Guide – 17.07.18
Happy 2nd Stomaversary – 23.08.18
Pancaking and Ballooning – An Education – 28.08.18
Taking Steriods for an IBD Flare Up whilst Living with an Ostomy – 18.09.18
The Importance of an AUR – Appliance User Review – 03.02.19
This is Not My First Choice – 19.07.19

Do you have any questions or queries? Or just want to share your own experiences? You can leave me a reply here or leave comments via my social media accounts – on Twitter, find my blog page on Facebookand over on Instagram
Further Reading: