Vedolizumab Subcutaneous Injections
Biologics have been around since 2003 and have had a great impact on inducing and maintaining remission in moderate-to-severe Crohn's disease (CD) and Ulcerative Colitis (UC). Biologics have been a mixture of intravenous (IV) infusions, subcutaneous (SC) injections and oral medications.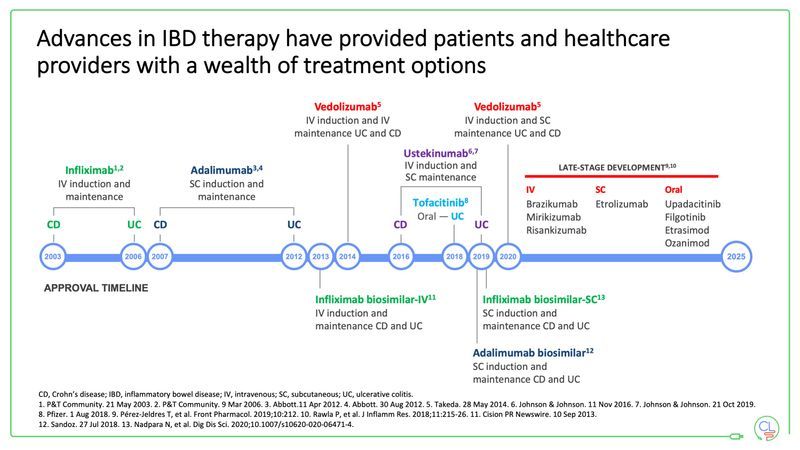 What did the pandemic mean for medications?
At home administration of biologic Veodlizumab seems to have been spurred on into development and availability due to the COVID-19 pandemic. But as evidence from the Takeda – the pharmaceutical manufacturer of Vedolizumab (Entyvio) – it has been in the pipeline since 2019.
During the UK lockdowns, the clinically vulnerable were told to isolate. This was due to the increased health risks they would face if they were to test Covid positive. The clinically vulnerable were those with underlining health conditions that affect their immunity. The complete list can be found here, and among them were a proportion of IBD patients who were immunocompromised due to their medications and treatment regimes keeping their conditions at bay.
Vedolizumab is not an immunosuppressant, but the vulnerability of patients receiving their IV infusions of this medication in a healthcare setting was a concern to IBD teams.
The uptake of subcutaneous injections for Vedolizumab has meant that patients can still receive their medications at home, ensuring that they are spending less time being potentially exposed to Covid-19 in hospital.
NB: Of course, no infusions should be taking place when there has been recent positive Covid-19 patients in an infusion centre or setting. But you can never be too careful, right?


So what is vedolizumab?
Crohn's and Colitis UK have the most understandable explanation of what Veodlizumab is:
Vedolizumab is a 'gut-selective integrin blocker' that targets white blood cells. White blood cells are made by the immune system to fight infection. In Crohn's Disease and Ulcerative Colitis, overproduction of these cells leads to inflammation. Vedolizumab works by stopping the white blood cells from entering the lining of the gut. This means that the drug only targets the gut, rather than the whole of the body like anti-TNF drugs, and may cause fewer side effects.

Vedolizumab Publication
It is first given as an IV infusion. The infusion lasts for about 30 minutes each time. For your first two treatments, you will be monitored closely during the infusion and for approximately 2 hours after the infusion is completed. This is to ensure that you have no allergic or other reactions to the infusion itself or to your medication. For all subsequent infusions, you will be monitored during the infusion and for approximately 1 hour after you have completed the infusion.
The recommended dose is 300 mg given every 8 weeks after the first three treatments:
What makes the injections different?
This is the typical set-up for patients who are going to be having Vedolizumab as an SC from the beginning: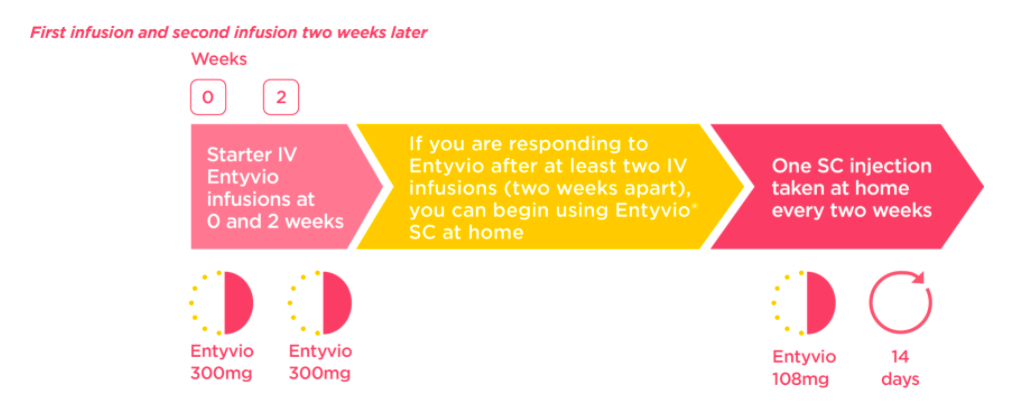 As you can see, there are only two IV infusions given before SC begins at home. After this point, every 14 days an injection will need to be self-administered. The dosage is also different – infusions are 300mg whereas injections are 108mg. I'm not quite sure of why, except for the difference in time between infusions versus time between injections.
How to administer
Vedolizumab SC comes as either pens or syringes.
The pens are action loaded so that you do not have to see a needle entering the skin. Syringes allow for a slower release of the medication, so you are in control of the speed. Both have pros & cons and are a patients personal choice when it comes to administering their own medication. I currently have the pens and are very similar to diabetic lancets.
This is how I have received instructions on how to inject myself at home:
Fears or issues around self injecting
A very common question that surrounds at home medications like these, is the actual injecting yourself. It can be quite overwhelming and daunting to inject yourself with medication, especially if you are used to oral medications or IV infusions. But it is something that you are trained to do – by the home care delivery company for your medication with one of their trained specialised nurses – and you can always ask for more help if you require it.
I remember during my time on Humira (Adalimumab) injections, I began more fearful of the needle and injecting myself as time went on because I was feeling more and more side effects. I was retrained, I was able to have my mom trained so she could do it when I was unable to, and that was a very reassuring part of the experience.
Ampersand Health has a great article about the anxiety around self-injection here, which I have found to be really comforting going into this new experience.
You can view my Vedo subQ journey on my IG account here.
Until next time,

Do you have any questions or queries? Or just want to share your own experiences? You can leave me a reply here or leave comments via my social media accounts – on Twitter, find my blog page on Facebook and over on Instagram
If you enjoyed this post check out The Road to Vedolizumab and Vedolizumab: Two Years On