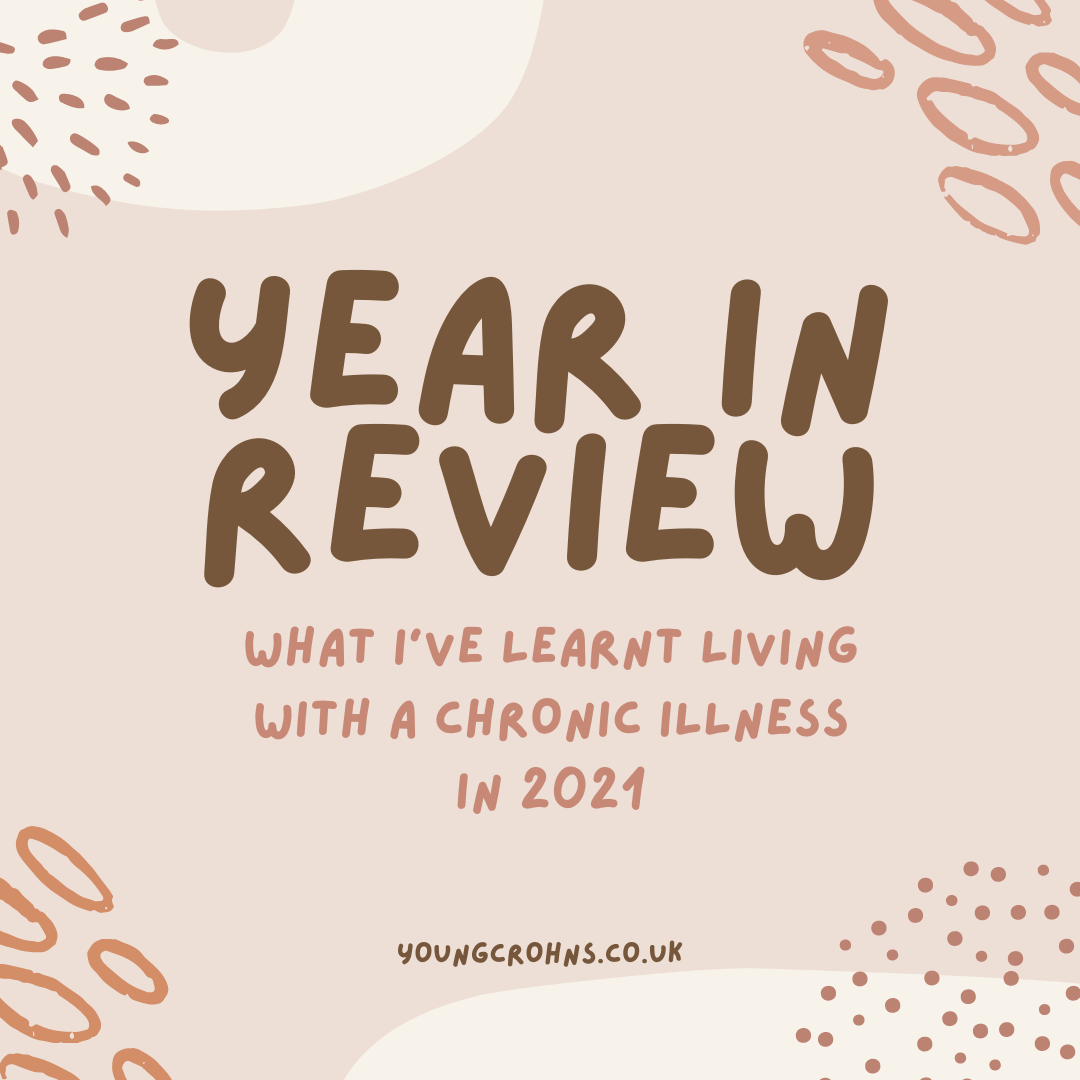 Yet another wild and wacky year. Another twelve months of the lifting of restrictions and getting all the vaccinations. It has flown by, yet again, and even looking back it doesn't feel real, that 2021 is coming to a close.
I tried to set more loose and flexible goals for 2021.
As for goals, I set myself the following:
And well, we can safely say that a lot of this went not done.
I have gotten better at monitoring and controlling my diabetes, but I have had to because of multiple surgeries and going back on IBD medication.
I had an accounting job for a while but had to leave due to my health being suddenly requiring my undivided attention. And because of all of the health stuff this year, its been hard to process it all – because it has been a lot and one thing after another – so the book has been left off to the side, probably sitting in a drawer somewhere, or on some deep folder on my Macbook. Ah well.
I could not get my PCOS more controlled this year because this is the only doctor I haven't seen F2F for almost two years. I've had routine calls for check-ins, but I need more time and more testing done to get things tweaked to where I truly want them. But I have taken time and effort into trying to control the hirsutism better. It's not a quick process.
So, what have been the highlights of 2021?
Getting my reopened proctectomy wound and abscess sorted!
Continuing my AAT joruney as a purely self study option.
Not loosing Newton when he was injured again this Autumn.
Being part of some very great IBD campaigns.
Completing my Goodreads Reading Challenge by September!
Celebrating living with IBD for a decade
And ditto for 5 years as an ostomate
Being fully vaccinated and safe from COVID
Doing my own at home medication injections without help.
Surviving 2021 without emergancy admission or uncontrollable flare ups.
I've built on the key achievements I had in 2020:
As being an outpatient changed in 2020, I still attended hospital and did have an admission – for my surgery. Something unthought-of this time last year, but surgery was probably the easiest its ever been for me, given that I wanted to be in and out without issue as quickly as possible and my surgeon made sure this happened. Forever grateful, and I'll never forget having surgery during a pandemic.
The hospital became a sort of second home this year, despite all the restrictions lifting, I was still cautious. But the hospital was always a positive experience, I mean, three surgeries, one scope, three scans and four infusions, plus consults and blood tests; I was there a lot. But it was safe. I was safe and that was all that mattered. It still is traumatic but that is sadly, part of my story this year.
Proctectomy has fully healed, despite it having some leakage issues from time to time, reminding me that it is still very thin and friable skin so taking care of it is fundamental to my routine. But overall, no issues with that, even with my hernia.
I almost laughed at this, as the wound reopened in May and had to be operated on in June, July and November. It was just.. long. But now, at the end of this year, It is back to being closed. I am no worse off from it, I still have my butt cheek but I am without a sinus tract, but hey ho.
He looked after me so well during my time off work and during my surgery this year, so I continue to thank him endlessly for doing the best for us.
My partner has been wonderful again this year. He has gone above and beyond for us, working a lot, still being safe and vaccinating himself to protect me. Thank goodness he has been rewarded with new opportunities for 2022.
So, what have I learnt living with a chronic illness in 2021?
Pandemic has empowered me to say NO more often and I love it.
The relationships built with nurses are wonderful.
Speaking about the negatives does not take away from the positives.
Society still sees the invisible illnesses as nothing, unfortunately.
I am in a speical group when I say I can taste my IVs, anathestics and medications.
SubQ injections are better than 8 years ago but my brain needs abit of re wiring.
Never forget the small joys in healing.
I have no more embarassment about showing my arse to a medical professional.
Saying thank you and telling someone you appreciate their help can mean the world.
Rest is not being lazy.
What I was thinking about 2022 in the summer – when I was employed and studying – is a lot different to what I now want to achieve. It feels like it is less but it's just refined, and that is how I see things now, tweaking it to the main goal.
Until next time,

Do you have any questions or queries? Or just want to share your own experiences? You can leave me a reply here or leave comments via my social media accounts – on Twitter, find my blog page on Facebook and over on Instagram
If you enjoyed this post check out 2020 – Year in Review and 2021 Gratitude