"Does being in hospital get easier?"
I'm going to go out on a limb here, but hospital admissions have been getting easier for me, the longer I have IBD, the more familiar I become with my own circumstances and probably because my anxiety around my health is always there, in the background like a pink elephant.
I've gotten quite comfortable with the hospital in the last 3 or 4 years, mostly because I've been alone for those admissions, procedures and appointments. It was a big transition and change for me, but I wanted to take ownership and control over my condition, and part of that was being there, just me, no one else.
Why would I enjoy going alone?
Appointments: These are the most commonplace I've gotten used to being alone for. I don't get as distracted by my companion, I'm usually more honest and open about my issues. The only thing that I miss is having another voice or person to sound things out with, in the afterthought. For the most part, it's been a logistical and time management problem – my appointments could be any time, there was never a guarantee someone would be free to come with me. And I quite enjoyed the solo journey to and from the hospital.
Infusions: Very similar to appointments, they would happen at various times of the day during the week, it was rare to have someone come with me for these. I did see other patients with their partners or a friend but I was always quite happy to be alone. I sort of liked the hours spent alone with the infusion pump going and the staff checking on me. I could read or listen to music, generally be myself. I wrote more about this feeling and what it is to be grateful for being comfortable in the hospital.
Procedures & scans: My scans, day surgeries and procedures never ran on time. I would be dropped off and collected, as per the request from my team. It was very normal to be alone for these because of space and the fact that it was a ward or procedure space, patients only. I suppose as I became more in tune with these types of 'days' at the hospital, I enjoyed being alone. I wasn't ever frightened to be alone in them. I was used to the processes and sometimes made it a game, 'how quick can I get this prep down for the scan?'
Admissions: These were more tricky. You are expected to be alone for these types of times in hospital but they are still hard. They do get easier but they are a period of time fueled by anxiety and alot of nervous energy. Even after surgery, I\ve been hyperaware of wanting to go home. I wrote about my latest surgery – during the pandemic for my hernia repair – and when I had my stoma blockage, to give some perspective on just how different admissions can feel.
But hospital's can be overwhelming and unnerving
I can understand why being in hospital can make people feel uneasy.
It is full of new and weird things, of which you don't ever expect to have to endure, let alone get used to.
But when it comes to having a chronic illness, there is some regularity of our treatments – the checklist before starting medications, the preoperative assessments for procures and surgeries, and some extend the blood work expected on each clinic appointment – and it does become routine. We go through it with alot of deja vu but it becomes part of the chronic illness experience and package.
You are expected to be poked and prodded alot, with increasing frequency if you are a complex case or in a circle of flaring up, but it even happens when you are stable and in remission; to just check everything is okay. It does because 'easier' because you know what to expect. You know what is going to happen and that eases your mind, especially if you have health anxiety.
How can you become more at ease?
Here are some of my tips for how to feel comfortable with lots of hospital time:
Bring a book, a note pad, some headphones; anything that will help you pass the time.
If you choose to use your phone to distract you – games, music, social scrolling – bring a power bank.
Water – always have water with you. Hospitals can be abit of a temperature war zone and you never know if you'll need to do a sample either.
I always take a spare kit of stoma supplies, just in case I need to change or am asked to remove it for a test.
Snack – I take snacks everywhere, and it's amazing how quick hunger can turn to nausea.
Remember to relax, this might be a place where you feel anxious or nervous but HCPs are used to this and it is a safe space.
Speak up if you feel uncomfortable. Or if you experience any symptoms. I can't tell you how many times I've almost fainted while having blood done in my time with IBD…!
Don't rush to your appointments, give yourself time to get there and to feel comfortable.
Be aware of hospital signs beforehand, nothing worse than getting lost!
Most hospitals usually have volunteers who can direct you if you get lost too.
In the current circumstances, be aware of the hospital policies around face masks, bringing someone with you to an appointment and social distancing.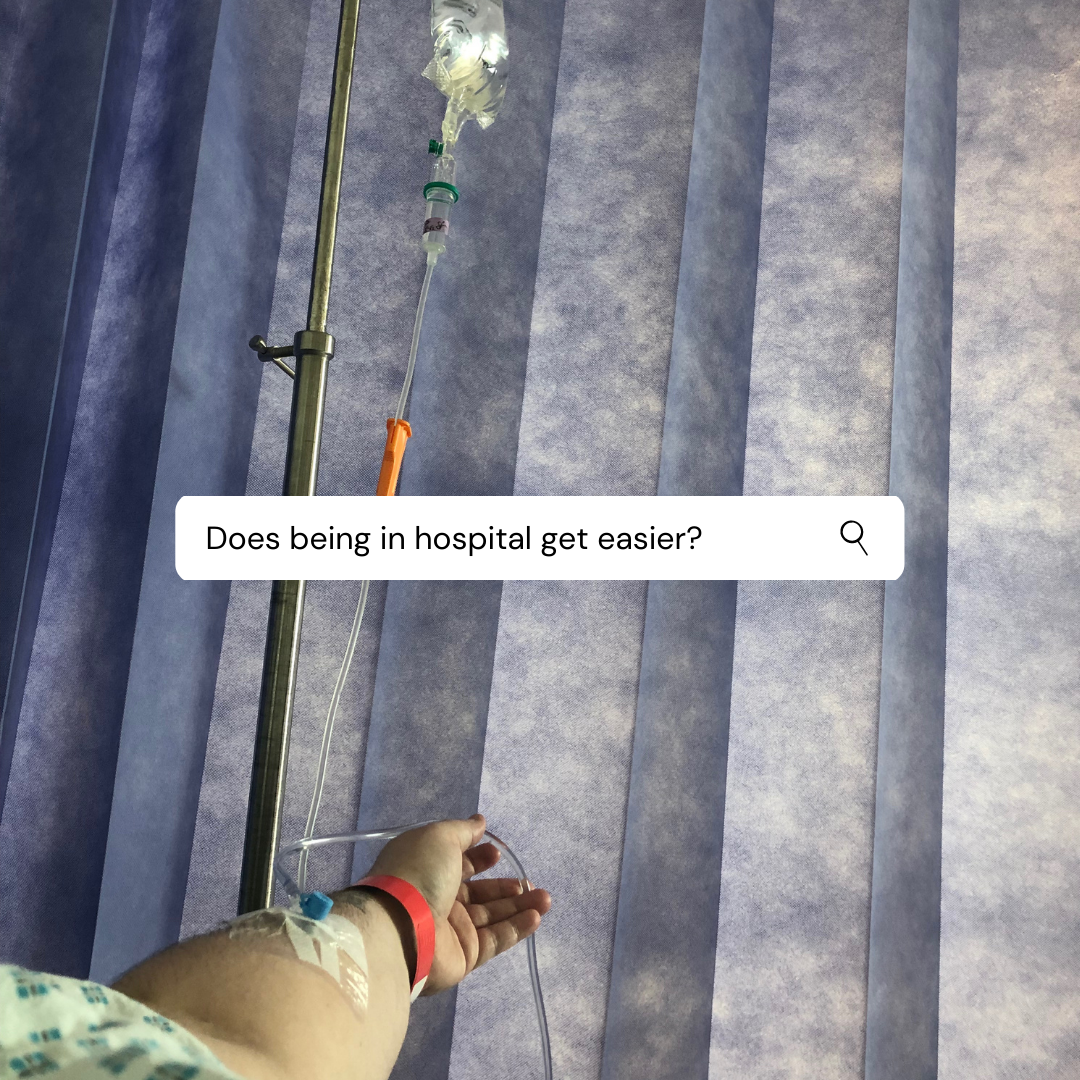 Would you agree with any of this? Has hospital gotten easier for you?
Until next time,

Do you have any questions or queries? Or just want to share your own experiences? You can leave me a reply here or leave comments via my social media accounts – on Twitter, find my blog page on Facebook and over on Instagram
If you enjoyed this post check out Post Operative Blues: The Emotional Highs and Lows after Discharge from Hospital and What's in my Hospital Bag