Having Major Surgery During a Pandemic
I know almost all of us did not expect nor predict that 2020 would be how it has been thus far. It has been without a doubt the most challenging year for a very long time.
However, when you have a chronic illness, you go through periods where you are indeed isolated and out of the public sphere due to ill health. I, myself, have had my fair share of these periods throughout the time I've had Crohn's Disease. But this year, was something else entirely.
I never predicted I would require surgery this year. It was not even on my radar. But the more I've had time to think about it, I knew something wasn't right for longer than the six months leading up to my hernia repair.
Normal process
The usual process for needing to have major surgery is: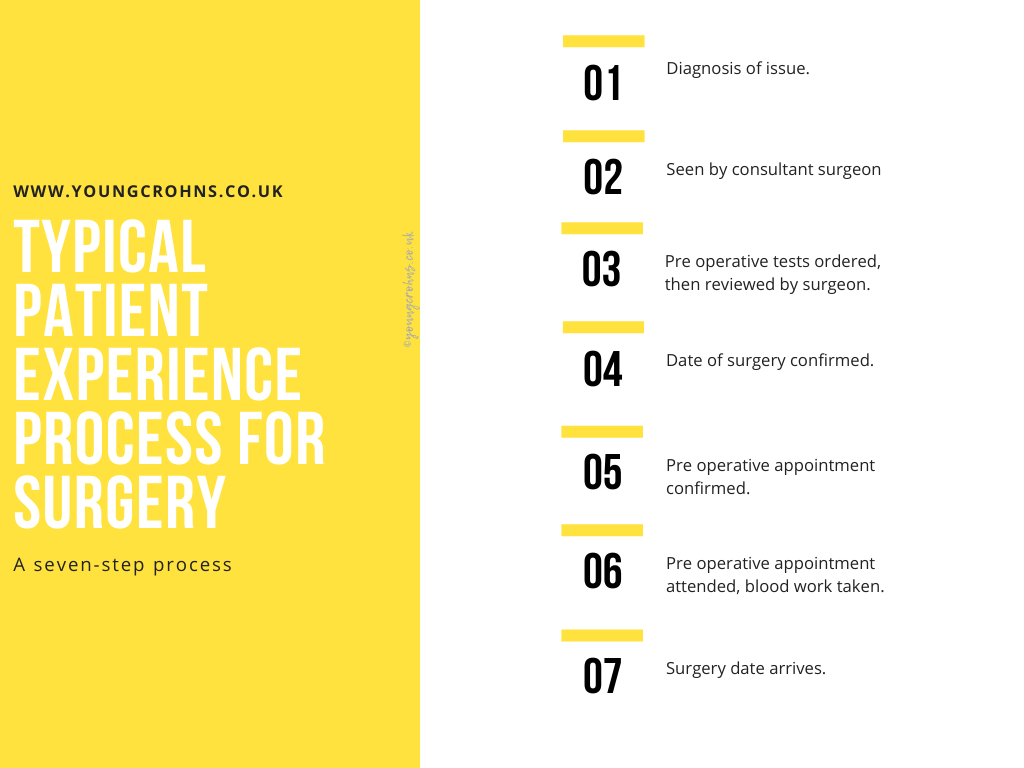 This can take between 6 weeks to 9 months, depending on the issue. Given the type of condition I primarily have, and the need for abdominal surgery, my usual wait has been about 3 months.
The most length part of this process is usually the waiting list on the surgeon. A great surgeon will usually have a long waiting list because he or she has very good outcomes for their procedures. I would rather have to wait for a great surgeon that settle. And thus far, I have always been seen under the NHS. Going private and paying could result in a short wait.
Pandemic process
Note: I have been extremely lucky to have my surgery happen during this pandemic. I am aware of just how many of my friends within the IBD and ostomy community have had their procedures cancelled and not rescheduled as of yet (October 2020) so none of what I write is not without them in mind.
This process has only been longer than the 'business as usual' explained above, due to the extra steps set out due to pandemic protocol. And I have to say, it has been a little bit more stressful than usual.
Isolation was tough, I missed an exam and two family birthdays during that time. Not being able to go out was mentally very hard, even if I had been under lockdown guidelines before this; knowing I had to be fit and healthy for the operation was a huge pressure and quite stressful.
And of course, the COVID swabs were unpleasant too.
But throughout all that, the interactions I had with hospital staff was great. My surgeon was on hand via email during this time to ensure we were doing this at the right time (ie checking my hernia was still stable and not obstruction my bowel or negatively impacting my stoma) and the two times I went in for blood work and a stoma review, I was looked after and remained safe.
Being an inpatient during COVID
I got asked a lot about how was my hospital stay different from last year? Well, for the most part, it was exactly the same.
Admission to theatre was exactly the same, except staff were gloved, gowned and double face masked at every interaction.
In anaesthesia, I had two doctors instead of four. The same happened in recovery also.
The ward was full every single day of patients, all colorectal.
All members of staff had face coverings during their shifts.
I was still rounded on, each day as normal, despite it leading up to a UK bank holiday weekend.
There were no COVID cases on the ward, so it was considered a green safe zone.
Visiting was restricted to one person for one hour per day, during a time slot allocated by your bed number. And it had to be the same person for the duration of your stay.
Cleaning took place twice a day as normal, food and drinks were delivered as normal but staff were in gloves and a face mask.
In my bay, as soon as a bed was empty; it was deep cleaned and within an hour of that, it was being filled once more. It was very busy for the five days I was an inpatient.
How to cope
It was hard being in the hospital, despite having been through this before and having plenty of distractions. I found it really emotional leaving after five days because I'd kept so much of myself bottled up. An hour visit isn't really that long (but I understand why it needs to be limited) and it's hard to speak freely when there is no privacy.
I took with me lots of music, plenty of TV shows and movies to watch, as well as books to read.
I spent some time just jotting down some feelings and thoughts when I was lucid enough to type and think clearly.
Video calling was a godsend during this admission and kept me connected.
I did a fair bit of social media updates too, which I felt better for doing.
As for coping after coming home, I allowed myself time to grieve. Hospitals are a drain on your emotions at the best of times, but going through a huge surgery does also add to the emotions as well.
Important advice
Follow the latest COVID guidelines; updates are here.
Follow the advice of your medical team.
Remember that the NHS is open despite the pandemic.
Do you have any questions or queries? Or just want to share your own experiences?

You can leave me a reply here or leave comments via my social media accounts – on Twitter, find my blog page on Facebook and over on Instagram


If you enjoyed this post check out Coming Off The Radar , Pause and It's the Small Things that Have the Biggest Impact