"Can calprotectin testing be done at home?"
Disclaimer: The information in this post is based on knowledge from NICE and CCGs, as well as my own personal use of FCP at-home kits. All experiences given here are my own and should not be taken as medical advice. Please remember that FCP is not a definitive diagnostic test for IBD. If you require advice or support about any aspect of your IBD care, please contact your IBD team in the first instance or your GP.
We all wanted more accessibility in healthcare, but we didn't think a pandemic would be the driving factor for it.
Picture this; as part of your IBD care, you require regular – twice yearly or yearly – calprotectin tests. This involves giving a sample of stool to check for levels of inflammation. Isn't science cool that we can find out inflammation levels from poop? Pretty smart huh? You pick up or receive the empty stool pot and paperwork, do the test and have to return it to your GP or hospital lab.
Right now, that would involve two, or possibly three trips to a medical setting to get this done. While attending medical appointments is allowed under shielding and classed as 'essential' under the current lockdown rules in the UK, for some this might be too much risk. Wouldn't doing the whole test at home be easier? It would certainly help, wouldn't it?
What is a Feacal Calprotectin Test? [FCP]
Faecal calprotectin is a sensitive but non-specific marker of inflammation within the GI tract. The test looks at the general level of inflammation in your intestines.
As Inflammatory Bowel Disease (IBD) involves more inflammatory activity than functional digestive disorders such as irritable bowel syndrome (IBS), a faecal calprotectin test is often used to distinguish between IBD (including Crohn's disease and ulcerative colitis) and IBS.
What is currently used for?
Its current use is to differenciate between IBD and IBS in patients who present with a new onset of digestive symptoms.
It is also used in the follow up of established IBD patients; either in primary care – your GP – or secondary care – your specialist team.
It is important to note that an FCP will not diagnose IBD. British Society of Gastroenterology guidelines on IBD (2011) state that 'the diagnosis of IBD is confirmed by clinical evaluation and a combination of biochemical, endoscopic, radiological, histological, or nuclear medicine based investigations'. Initial laboratory investigations in common practice include full blood count, erythrocyte sedimentation rate, C‑reactive protein and other tests such as kidney function tests. The guidelines state: 'faecal calprotectin is accurate in detecting colonic inflammation and can help identify functional diarrhoea'.
However, FCP can be a good indicator of inflammation without the need for a colonoscopy – invasive in nature and often off-putting to most.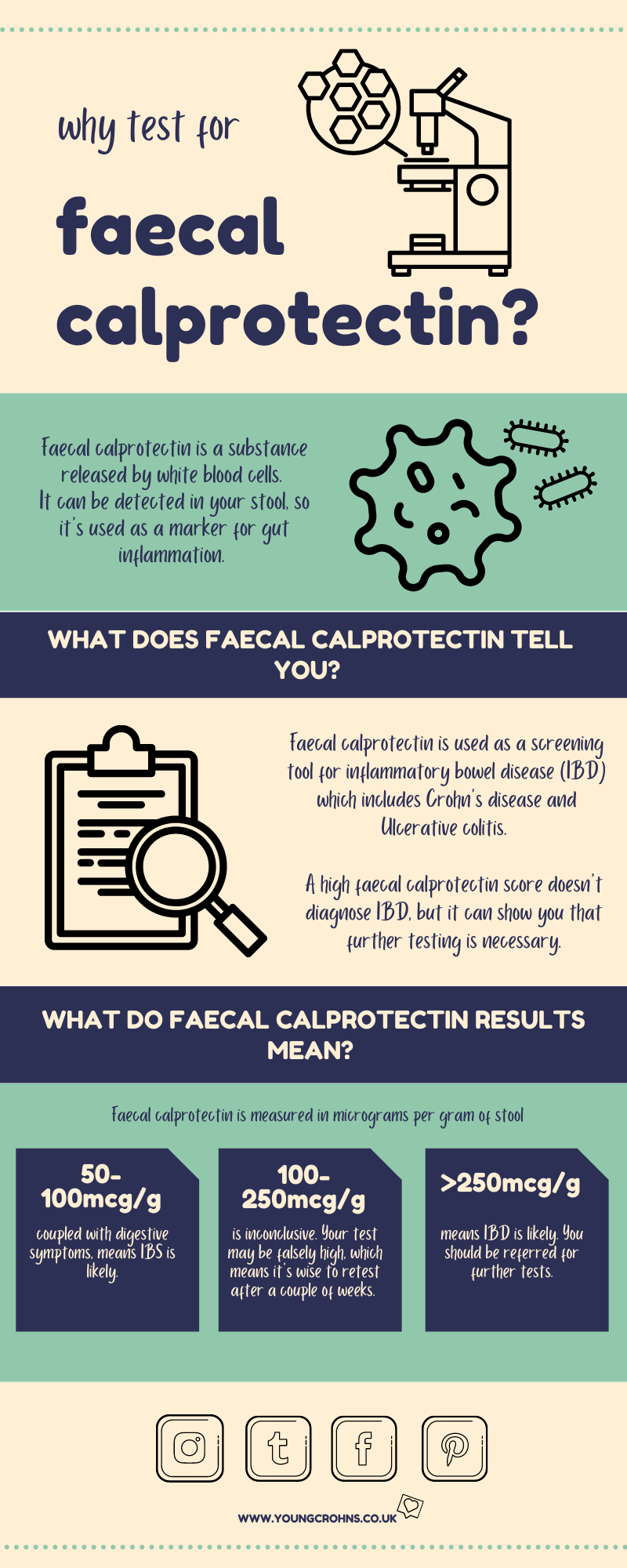 How does at-home testing work?
Rachel Sawyer from The BottomlineIBD says it best when discussing at-home testing; "The advantage of at-home calprotectin monitoring is the immediacy of the result. Patients can wait up to four or five weeks for a result, but here get access to their reading straight away. It is displayed either as a traffic light system (red, amber or green) or as the actual figure (some tests display a maximum upper limit)"
Calprotectin.co.uk is the leading resource for FCP in the UK and uses a smartphone app called IBDoc for this testing.
How does FCP fit in to IBD follow up and those patients with stomas?
In follow up, it can help aid:
Assessing disease activity – FC levels correlate well with colonoscopic appearances and histology in IBD, as well as being a superior surrogate marker to CRP &/or ESR in this setting.

Note

: FC levels in small bowel Crohn's disease tend to be lower than in colonic disease.
Predicting relapse – FC level checks for CD patients in 'clinical remission' form a useful baseline value to gauge whether or not future new symptoms are inflammatory in nature when rechecked.
Assessing treatment efficacy – FC levels have been shown to correlate with symptom improvement and endoscopic/histologic scores in IBD patients treated with steroids, immunosuppressants and biologics.
In stomas, with the removal of the colon, the cut of levels for FCP should be lower, but there is evidence to suggest that FCP can track active small bowel Crohns disease. That requires more research, data and analysis.
Repeat testing should happen every 3 to 4 months if you have active disease but could be prolonged if you are without symptoms of a new flare-up to 6 months or yearly.
Going forward could it replace lab testing?
As a patient, it is a great tool to have at our disposal at home. But for the more broad scheme of our IBD care, I don't think it will replace NHS lab-based testing. There is a level of reliability, traceability and honesty, the cost involved that goes beyond what we see on the face of healthcare.
Would do you think of at home FCP test kits? Would you find this useful?
Until next time,

Do you have any questions or queries? Or just want to share your own experiences? You can leave me a reply here or leave comments via my social media accounts – on Twitter, find my blog page on Facebook and over on Instagram
If you enjoyed this post check out Chronic Illness & Guilt and Iron Deficiency & IBD
References:
Calprotectin.co.uk – Calprotectin Home Test for Patients Self Testing of their IBD status
NHSGGC – Guidelines on the Use of Feacal Calprotectin within NHS GGC
Rachel Sawyer, The Bottomline IBD – Calprotectin: A Guide for IBD Patients