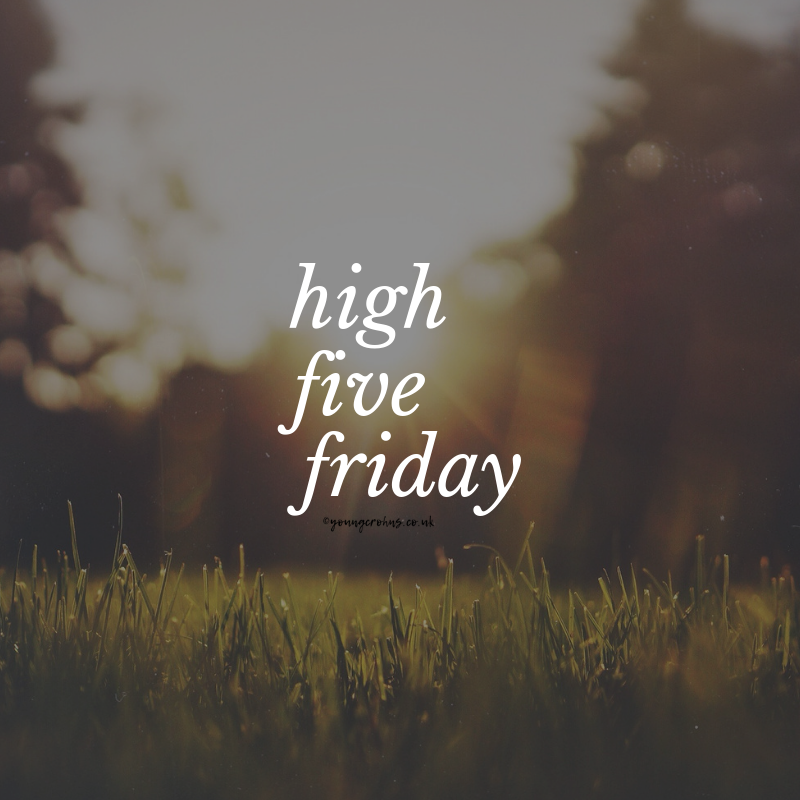 With the highs, come the lows
This week started with a delightful breakfast in a new café in town! Always a good start, eh?
I got to spend the weekend with Ben and relax after my big project last week concluded. I must say it's definitely confusing when youre tiredness doesn't hit you straight away; I ended up with a cold (again) and the headache from hell on Tuesday, so much that I haven't been able to leave the house for a couple days.
Despite that, here is a wonderful shot of Lichfield from my #uncomingbigproject :
On Monday I was interviewed for a IBD study at the University of Leicester and their NHS Trust. It was quite nice to give back some time and help where I can, but it was also therapeutic – me and the psychologist talked a lot about how my IBD affects my mental status and how this has changed with med changes, surgery, working, gaining and losing friendships and relationships, as well as its impact on my family life. It was sad to dwell on everything I've been through in five years but I hope my experience has shown a trend or a new slant of what living with IBD is like these days.
Aside from being sick this week, I finally rallied and I attended my MRI appointment on Thursday. We are checking my levels of inflammation in my small bowel so that was a different experience with the ostomy. More details in that in its own separate post, coming soon, I hope!
I caught up with the BBC programme "Hospital" which focuses on the bed shortage within the NHS. Besides making me very angry and frustrated at the current state of the system, it makes me incredible proud and grateful we have the NHS and do not need to have health insurance. This no more true that when I think back to needing my emergency ostomy surgery in the Summer. I am grateful that I had a bed and surgeons who could and did operate on me, not fighting with management to do their job. I am very humbled. But this struck a cord with me:
I've been baking again this week too! Check on this awesome banana bread. More is in the oven today; it's for my brothers girlfriend; this is her pregnancy craving!
It wasn't until I was looking through some old posts that I realised it's been a year since I met my surgeon and had my second opinion at Nottingham. That was a gloomy time compared to now. It amazes me just how unwell I was and how much I was just putting up with.
I remember that coming up is the period of time when I lost my job because I was sick and that is filling me dread. A whole year will have passed and I haven't worked, been on benefits and only thought my "being off work" would be for a couple months, not the long period of time it has been. I forget just how much has happened and how much even just the consults for surgery affected me. But I'm proud that I made it through and fought my mental demons to get to the other side.
I've spent more time on getting my laptop and programmes working well, as well as doing some cheeky videos. I'm getting more used to my Canon M10 and I do prefer it over my DSLR for sure. Getting my 'office' set up is a task for the next week or so but my desk is sorted – I'm able to blog and record in my room when the house is empty: IT IS BLISS.
Here is a sneak peak of my set up. And yes, I always work with Jaffa Cakes!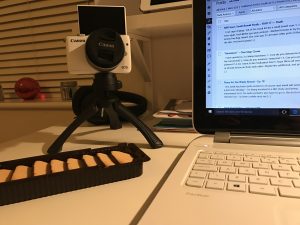 Last night was the #IBDHour for January; we discussed the NHS and how to get the best from it as an IBD patient. Lots of interesting experiences and opinions were raised as well as these two important points:
What I came away with from this discussion was just how much hard work goes into the NHS running, how many people we encounter as patients who are unsung in the system – pharmacists and consultant secretaries to name just two! – and just how much experience we have of the system from our years with our condition. Experience = knowledge = power perhaps? Something to discuss later in much more detail, for sure.
This hit home this week too:
"Clap for your own damn self." – Preach.
I blogged this week outside of my usual weekly updated! It talked about my 'move' towards remission and what that phrase means, as well as the 'medication free' debate me and my consultant seem to be locked in. You can read about it here.
And finally, here is me goofing about with my bag out. Just a normal Thursday afternoon for me!
Until next week,