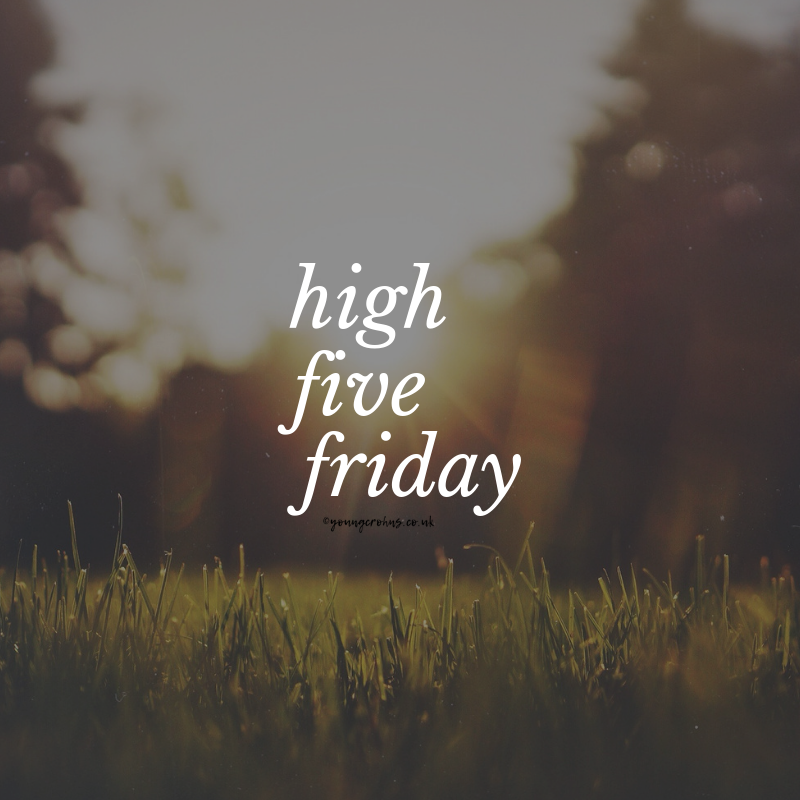 So glad that's all passed..
So, after being unwell in the New Year and missing my blogging because I was feeling so weak and unwell, I am finally back to the usual posting schedule! The motivation is all back and I LOVE IT.
This week is a weird one. I am super busy but with things I am unable to discuss with you guys. Don't worry, I am okay, things are so good with me but I am sworn to secrecy on this certain aspects of this week. High Five Friday this week is really just everything from the last couple days, ending on Wednesday 11th.
Did anyone else feel like this?
Anyway! Let's start with New Year.
I ended up with a bad stomach bug which played absolutely havoc with my ostomy. It was so bad that I had to ring up NHS 111 and seek medical advice – which was attend the urgent care centre to see if I needed to be admitted to hospital for fluids, luckily I didn't and could get better from home – but it took a good couple of days to get back to normal; first noticed by my craving for my usual kiwis. I knew by this indication I was feeling like myself. Everyone was so great at giving me advice and I really appreciate it.
Feeling so good, I was Snapchatting!
I spent the next couple of days getting back into a good routine of eating and drinking plenty to build myself back up. It's amazing how quickly things can turn and how easily the weight falls off. By the Friday I was feeling well enough to go to the hospital have my bloods taken for my upcoming Vedolizumab infusion – yes its been eight weeks already again! – and see my stoma nurse for a check up. I wasn't particularly going for a reason but since the bug, I wanted to make sure my stoma was okay and my appliances had been working well to protect my skin. Looks like I had been luckily and everything was good.
The weekend came and went; spent time with my parents and then time with Ben. We are getting back into the swing of him being back in training for his job. This next part is longer, harder and more intense because its fundamental for his progression. So I'm doing my best to be encouraging, holding back from being needy – so hard some days, I tell you! – and just enjoying our time together when we get it.
Monday I was at hospital for Vedolziumab. This went off without a hitch; my blood works shows significant improvement with my inflammation so much so that my disease could be in remission. This needs confirming with an MRI scan and more bloods and another calprotein test soon but I am hopefully. It would be about bloody time things starting going on the right direction after all these years of 'set backs'.
Best part was my nurse getting my canulla in my good vein first time without any pain!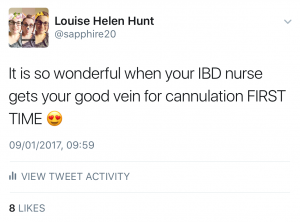 I met up with a friend for coffee and a catch up on Tuesday and got some blog admin done. It's been working slow and steady this week; I don't want to use up all my energy too early in the week, gotta save some for the Thursday and Friday's project.
I've been participating with #mydailyIBD photo challenge over on Instagram and this is one of my favourite so far:
It's from our holiday in Falmouth in November but I love the B&W filter on it most of it. Reminding me of stoma life.
In other good news; I have been able to enjoy some more excellent food already this year! These are just a couple I am quite proud of. I am loving the variety I am able to enjoy now. I am still amazed by the fact I can eat veggies again! Mushrooms; oh man how I have missed them! I really enjoy cooking AND eating all these new things. It might not be super-duper exciting or spicy or impressive but home cooked food to me is the best.
So that's been the start of 2017 for me!
Next week won't be busy like this week but I am hoping to go and explore abit more around town to get me motivated and out of the house.
Until then,