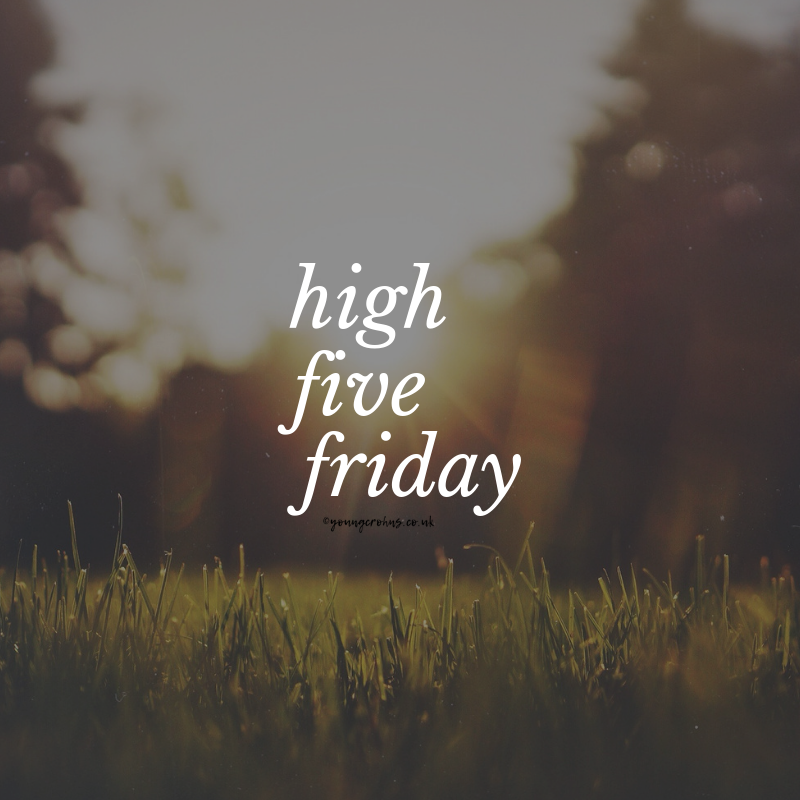 Oh the build up…
This week is my last week without anyone at home. It's just been me, my thoughts and idiosyncrasies. I'm actually quite quiet when its just me here alone. It's rather glorious.
As we went into last weekend, I spent sometime working on my posts for Coloplast about their Brava Protective Seal. And after a couple months of sitting in my room waiting, I got to use my Canon M10 to shoot some photos. I was very impressed with it. And it even fits in with my Apple collection of tech!
At the weekend me and Ben spent time getting things for my new 'office' I'm creating in my room. Trips to the charity shop to get rid of reusable items and then Ikea for boxes to reorganise everything else. I now have a clean and organised desk in which to get my writing mojo working! Just on the look out for a new desk chair – my current one is low and uncomfortable and NOT good for my back and stoma.
We also went Adventure Mini Golf-ing and Nandos with some friends at Star City! It was pretty awesome. A nice end to the weekend together.
I've been able to get my Nandos choice down and I can happily report my stoma LOVES it. I'm really happy because I've had to make some new adjustments to my eating and I'm thankful Nandos hasn't had to go! Yay!
Monday was spent at the hospital. I'd had a weird couple of days with my stoma before the weekend, so I was going to see and catch up with my stoma nurse after I had my appointment with my surgeon. You can read more about what happened there, here. But on the plus side, my stoma is fine! I'm trying a couple new things with how I actually change my appliance, as we have finally got a good set of products working – why rock the boat huh? – so fingers crossed I can report back to her before Christmas break that I've seen more improvement.
I also published my review on the Coloplast Brava Protective Seal; which got some great responses! I'm just happy this is finally working well at improving my skin issues around my stoma. You can read it here.
Tuesday I had the majority of my Charter supplies delivered. Added and organised them into my drawers; keeping on top of my ostomy supplies is important and part of me really enjoying learning more about ostomy stuff. I really don't want to run out of anything, especially over the festive break when there are no deliveries. I'm waiting on one more item to delivered next week but it should be on its way tonight..!
On Wednesday my Safe Space post went live. In recent weeks, I've been getting comments about how I should have kids now that I am 'healthy'. Pah, okay. If you want to have a read and see my thoughts on having IBD, an ostomy and NOT wanting kids, its here. I've had some really good feedback from it too, and I'm so glad I am not the only one!
Thursday I got my office organised. Look, its so festive and pretty!
It seems quite a few people are already in the reflective mood – I guess it's not a total shock, considering how utterly crazy 2016 has been – so I partook in this little gem: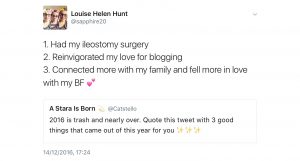 It's nice to see that despite my health issues and problems this year, I am ending on a high. I can see the transformation this year has been for me. Not only in physical health but in my mental wellbeing too. I'm hoping to continue that into 2017. I have some plans already but I'm looking forward to finding new opportunities and challenges to stretch me. If you know of anything in that department, let me know! Drop me an email here.
Looking forward to a week of plans next week; my mom is off work and we have much to get planned and organised for Christmas. It's also a week when I'll be getting 2017 started! I can't wait to share with you what I'll be up to in January!
Until next week,