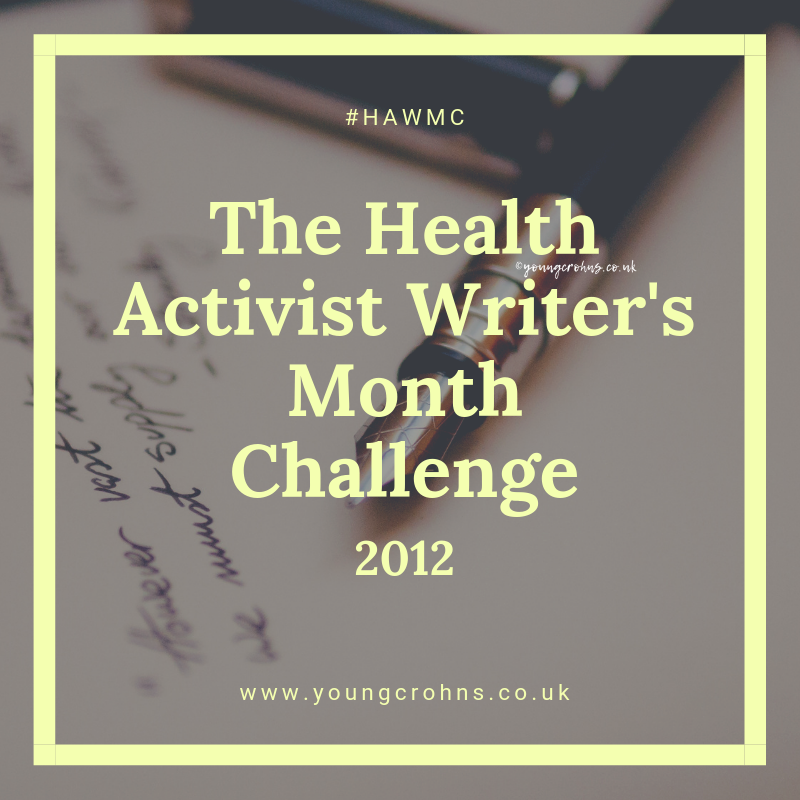 talereader wrote this great post on HAWMC day 17. These sentences really struck a chord with me:
"The world doesn't open up to you just because you're different."
"It's not that I was ever looking for special attention. I just wanted HELP. I wanted help in order to be at the same level as everyone else."
It is very hard to live with Crohn's. Given what hell we go through to get a diagnosis (or indeed any chronic illness, for that matter) it does not end when they finally tell you what is wrong with you, why you are in so much pain. In fact, it's very much the beginning of your problems.
So, you're in the hospital, they end up running tests on you, sticking you every day for blood, getting you to take medication, making you sicker, giving you worsening symptoms, having more pain. You turn a corner, and then suddenly you're back out in the big bad world again. You think, hey it'll be forgiving right? WRONG.
I have never felt so isolated in my own house before. It was worse than the isolation room they gave me on the Gastro ward. I was allowed to be around my family for more than a hour at a time and after a couple days, I was sick of them. I wanted back in the hospital, with the sick people. People who knew what pain I was suffering. What things were going through my mind, out here with the healthy, normal people. I wanted back in. I was torn between sympathy for my family after all the support they had showed me, and anger for the lack of anything they showed towards me. It might sound harsh, but we knew nothing at the beginning. In reality, we still know nothing, but that is the nature of Crohn's, the miserable bastard.
It got worse. Work. Friends. Going out, even just for coffee and seeing people I knew. I looked fine, alright, a little skinny but I was still my bubbly cheerful self. I was a raging torrent inside. LOOK AT ME! I AM SICK! STOP ASKING ME ABOUT TRIVIAL SHIT AND ACTUALLY SAY SOMETHING MEANINGFUL. ASK ME HOW I AM DOING! I was horrible. I felt horrible. No one paid me any attention. No one cared. I hadn't got any surgery. I hadn't gotten any disfigurements. I looked healthy. I still look healthy. No one gives a flying fuck when you don't look 'injured'. A colleague at work who sliced her finger open and needed stitches got more sympathy than me; a person with a long term, life long condition I haven't even scratched the surface of. I got no words of comfort – and if I did, on rare occasions, they were filled with sarcasm and felt full of forcefulness – and I was just expected to pick up exactly where I left off before.
It was impossible at work. It still is. I am there now because I enjoy my job and my colleagues. If I had to walk or leave tomorrow, I wouldn't care about the shop or the manager, I'd have a hard time saying goodbye to my friends. And the work banter. It is the same with friendships; some people understand right away about my condition, even go as far to research it and find out more about what my life is going to be like. They read this (hellloooo!) and they follow my tweets. Others, they do the bare minimum. Fine by me, do exactly what is 'asked of you' and no more, we'll see how that works out for you. Some, they don't get it at all. HOW CAN I BE SICK IF I LOOK OKAY? IF I AM SMILING, JOKING, LAUGHING, GOING OUT, HAVING FUN, BEING MYSELF? Well, yes, I am myself, but I am not the same girl from last summer. She is long gone.
I never want anyone to feel like they need to look after me or that they need to watch my every move, I can do that for myself, thanks very much. But I will need help. I do need help. I have to ask for it when I know my body just isn't up for doing everything I want it to. Like at work, heavy items. In friendships, giving me a lift home because I am tired from my Humira wearing off. I try and do the best I can given the circumstances. I try and do as much for myself as I can. I try. I always try.
It is exhausting. I need some time to myself, but I push myself to do more and more. And eventually, that will result in an admission. And I'm not sure if I'm okay with that… but it seems, this train just isn't stopping any time yet.