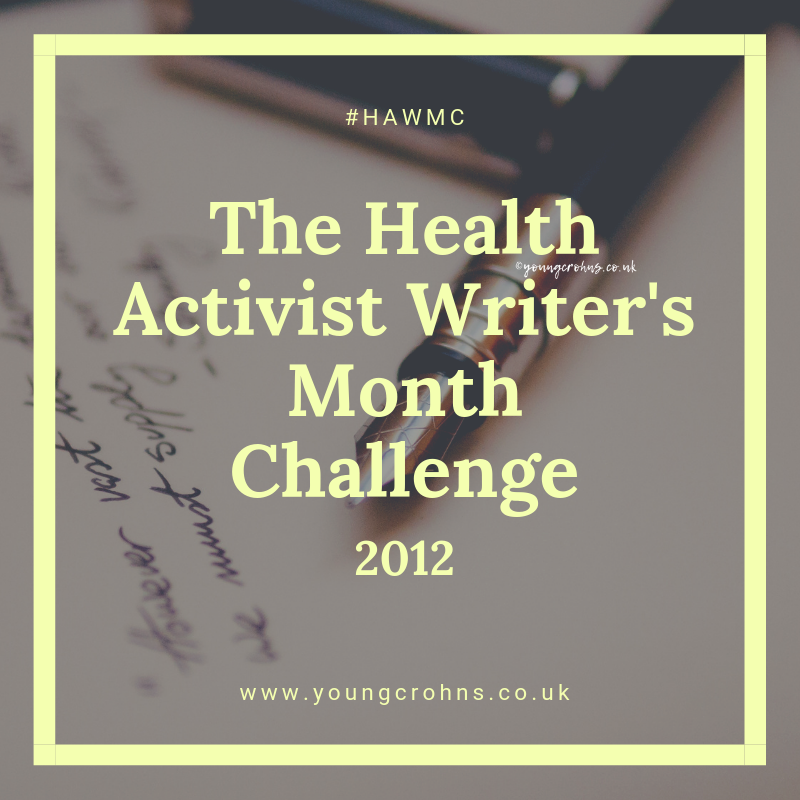 I write about my health because… Reflect on why you write about your health for 15-20 minutes without stopping.
I write simply because I enjoy writing.
Alot happened to me in a relatively short space of time. I spend most of my hospital time in a isolation bed thinking far too much, wondering about everything and anything. I went through many emotions and I had hardly anyone to talk to. I felt alone. I felt completely and utterly destroyed by the news of Crohn's. I wondered if I was the only one. I know now, that I am just one person in a very big community. And even though it is still relatively new to me and its such a 'undiscovered' place, I wouldn't change it for the world.
My reasons for this blog are three fold:
Awareness: I know how horrible it is to feel alone. I want to be one of the people a new Crohnie can turn to for advice. Or just for relatable experiences. I want to share everything that is linked to my Crohn's and vice versa with the world. I don't enjoy the conversations I had (and sometimes still have) with ignorant people. I've (mostly) moved past feeling angry about the lack of awareness, and have continued on to help raise it. I am not shy when it comes to my guts! And my difficulties! Ask away! 😀
'Free Therapy': It is very therapeutic to write. I like the flow of my own thoughts on my laptop (I write alot, I find my hand cramping and my mind overflowing if I decided to actually write write!) and exploring my own mental process. And hopefully the topics and issues I explore have happened to someone else, and it added more to the shared experience.
History: It is like a map of my recent life. It tells me alot about my own growth when I look back at my first couple posts, and even the ones I write about subjects, like my Humira, to see how much time has passed and how different I feel. I like the freedom of being able to be completely honest about my life with no one in particular but anyone who decides to read. And if you sit down and open my blog up and read, I am very very grateful. And part of my aim is complete in just that simple act.
I sometimes feel as if I must write, must vent, must get things off my chest. I find that inspiration for my posts come from no where, and I am never without something to say or share. It keeps me busy. Very very busy.